status
I SAT ABOVE AND BELOW THE GROUND
met Lily Dollner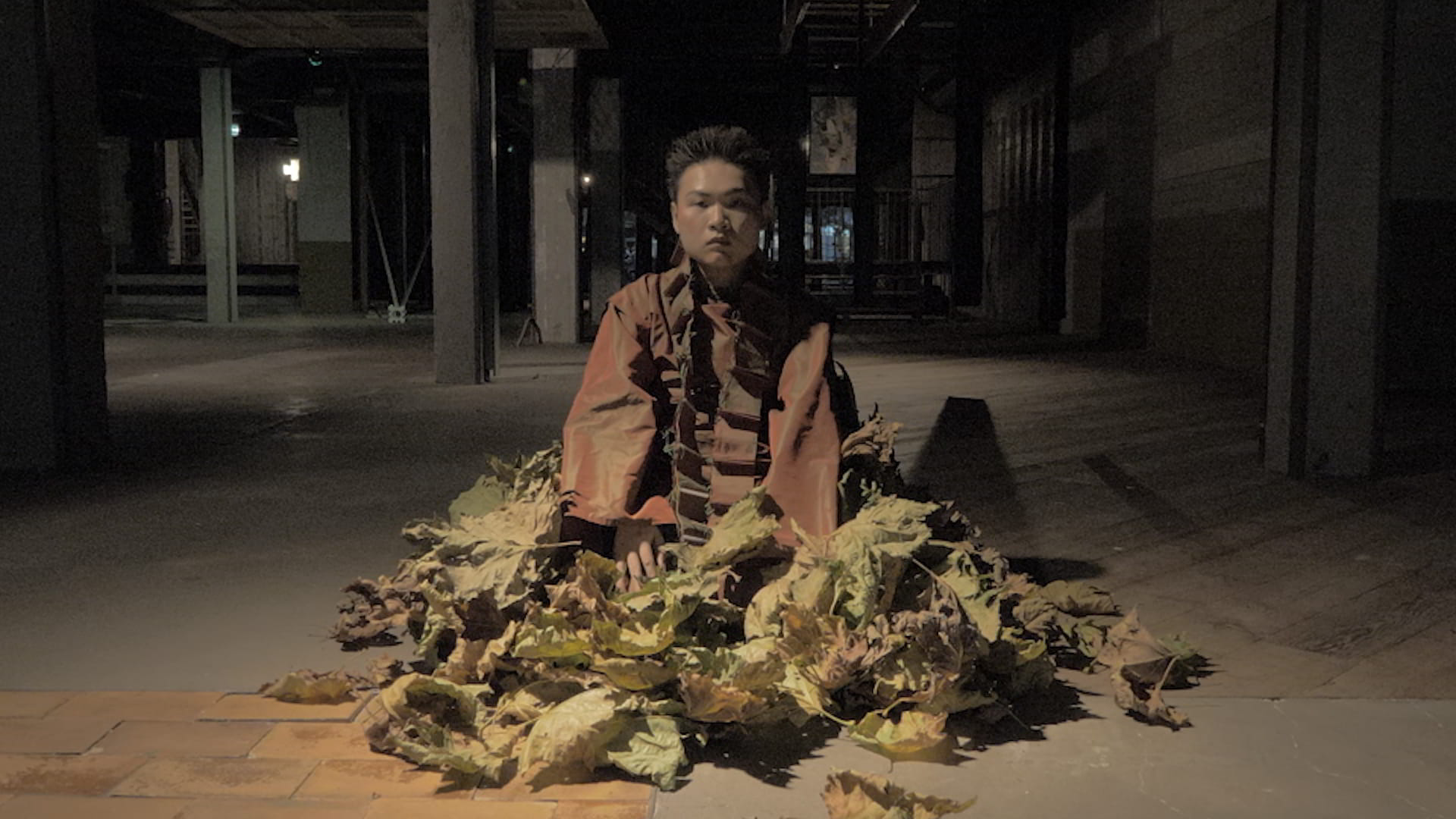 I Sat Above And Below The Ground - video still
Een groep onbekende wezens is neergedaald. We nodigen je uit om hun ceremonie waar te nemen, temidden een collectie van artefacten, lettergrepen, materialen, bewegingen, spiegelingen en inscripties.

I Sat Above And Below The Ground is het resultaat van een samenwerking die ik ondernomen heb met visuele kunstenaar Lily Dollner. Door het opzetten van verschillende algoritmes, rulesets en expedities, hebben we een collectie objecten en bijbehorende rituelen gegenereerd. Door ons te schikken aan alternatieve intelligenties, werden de zaken onverklaarbaar concreet - objecten begonnen hun betekenis te verliezen en ontvangen, en waren geïntegreerd in het verleden en de toekomst. Hierin waren we tot beweging gebracht door de instructies en grenzen die geplaatst waren.
| | |
| --- | --- |
| | Na een proces van meerdere herplaatsingen hebben we uiteindelijk onze expositie georganiseerd in een verlaten gebouw in Groningen's drukste winkelstraat. Het gebouw, dat eerder een kledingwinkel voor mannen was, werd opgraverig en kaal, alsof er iets gebeurd was. Het verwerd een plek van verlaten toekomst-ruïnes, waar alle heden al vervlogen was. En in dit landschap waren drie wezens neergedaald. |
I Sat Above And Below The Ground, video stills
| | | | |
| --- | --- | --- | --- |
| | | | |
| Houten krassers en rammelbotten | Metalen krassers en resonatoren | Houten tabletten | Houten krassers |
| | |
| --- | --- |
| | Door het proces heen is er een groep objecten onstaan, waarin functie en sculptuur tegen elkaar aan duwden. Deze semi-tools fluctueerden ook van een klinische plaatsing in de ruimte, tot een gewelddadige toepassing als smijt- en kras-tools. |
I Sat Above And Below The Ground - Reprise. Installatie-details.
Untitled I, Lily Dollner
Untitled II, Lily Dollner
titel:
I Sat Above And Below The Ground
in samenwerking met:
Lily Dollner
performers:
Quang Huy Tran
Aleksandra Winslow
Gabriele Dubrovinaite
filmopnames:
Ana Bob
gesteund door:
UpNorth, SELF Collective
met dank aan:
ZIP, Ingeborg Struyk, TIMNOTSIMON, Jan Herman de Boer, Karina Bakx, James Joyner, Lorenzo, Ren Sheikh, Ewoud Verelst, Joris Witvliet and Klaas Kloosterhuis
vertoond bij:
(1) I Sat Above And Below The Ground
Independently organised exhibition
Herestraat 72, Groningen, NL
28 nov 2020

(2) De Broeikas
interdisciplinary festival
Westerkerk, Friesland, NL
11 sep 2021
werkperiode:
07/2020 - 12/2021