I SAT ABOVE AND BELOW THE GROUND
w/ Lily Dollner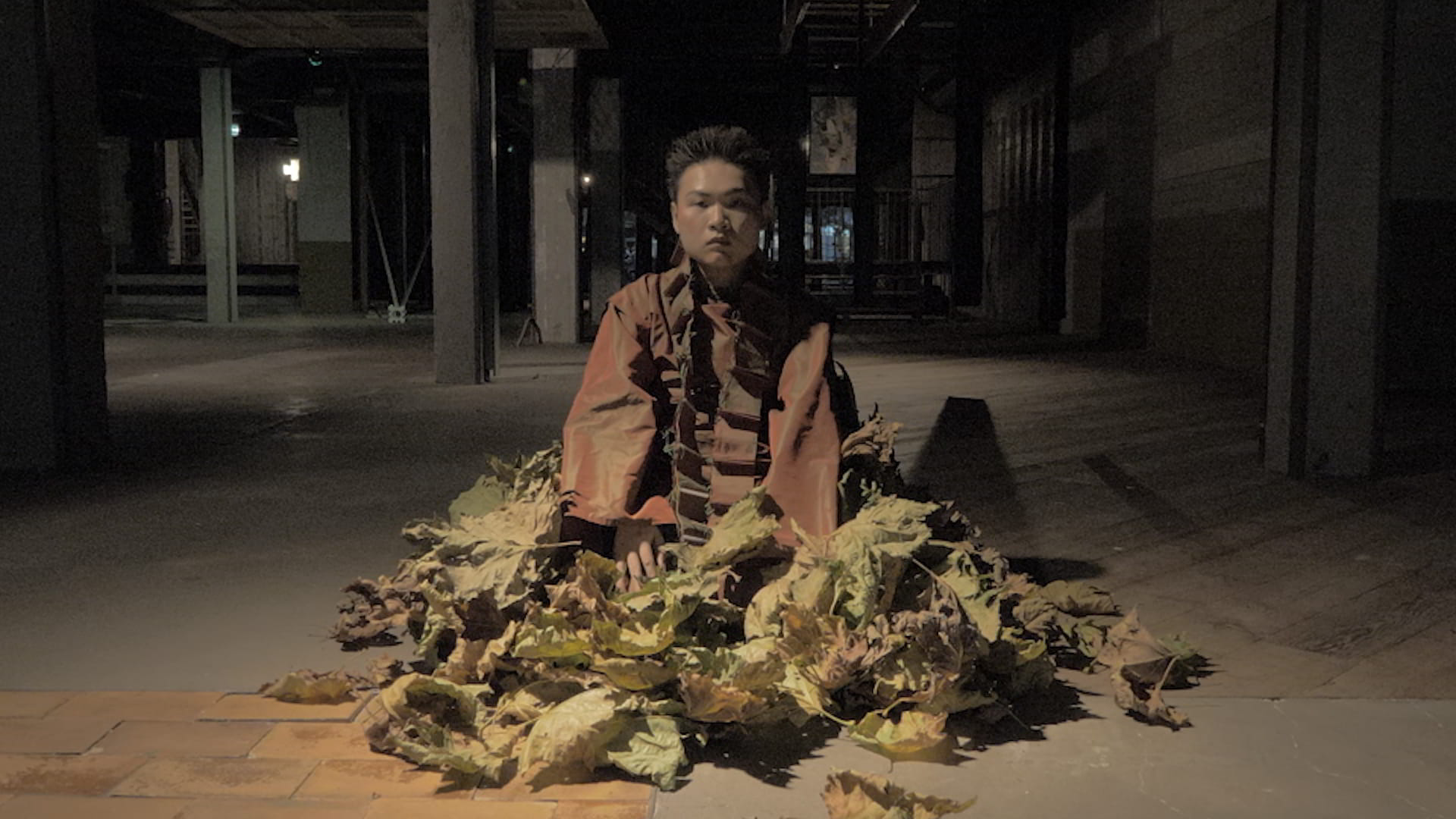 I Sat Above And Below The Ground - video still
A group of unknown beings have taken settlement. We invite you to witness their ceremony, among a collection of artefacts, syllables, materials, movements, mirrorings and inscriptions.

I Sat Above And Below The Ground is the result of a collaboration I took on with visual artist Lily Dollner. Through setting up several algorithms, rulesets, and expeditions, we generated a collection of objects and according rituals. By complying with alternative intelligences, things inexplicably got concrete - objects lost and gained purpose and meaning, and were integrated in the past and future. In this, we were moved by the instructions and boundaries that were set.
| | |
| --- | --- |
| | After a process of multiple relocations, we ended up organising our exhibition in an abandonded building in Groningen's busiest shopping street. The building, previously a men's clothing store, turned excavational, bare, like something had happened. It became a site of desolate future ruins, where all of the present had fully passed. And in this landscape, three beings landed. |
I Sat Above And Below The Ground, video stills
| | | | |
| --- | --- | --- | --- |
| | | | |
| Wood scratch tools and rattly bones | Metal scratch tools and resonators | Wood tablets | Wood scratch tools |
| | |
| --- | --- |
| | Throughout the process, a group of objects and things emerged, in which functionality and sculpturality pushed against each other. These semi-tools also fluctuated from being placed clinically in space to violently being used as tools to smash and scratch. |
I Sat Above And Below The Ground - Reprise. Installation close-ups.
Untitled I, Lily Dollner
Untitled II, Lily Dollner
title:
I Sat Above And Below The Ground
with:
Lily Dollner
performers:
Quang Huy Tran
Aleksandra Winslow
Gabriele Dubrovinaite
film recording:
Ana Bob
funded by:
UpNorth, SELF Collective
with thanks to:
ZIP, Ingeborg Struyk, TIMNOTSIMON, Jan Herman de Boer, Karina Bakx, James Joyner, Lorenzo, Ren Sheikh, Ewoud Verelst, Joris Witvliet and Klaas Kloosterhuis
shown at:
(1) I Sat Above And Below The Ground
Independently organised exhibition
Herestraat 72, Groningen, NL
28 nov 2020

(2) De Broeikas
interdisciplinary festival
Westerkerk, Friesland, NL
11 sep 2021
working period:
07/2020 - 12/2021